Klik tombol play
di bawah untuk memutar video.
Jika error
, coba pilih server video lainnya di atas.
Masih Error? Laporkan ke fanpage kami di sini:
fb.com/nontonanimedotorg
, mohon sertakan link movie ini di laporannya.
Nonton Godzilla: The Planet Eater Sub Indo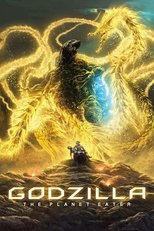 Movie ketiga dari trilogi. Diceritakan Godzilla yang memutuskan untuk beristirahat setelah pertempuran terakhirnya membuat manusia mencari cara untuk membuat planet mereka kembali. Tampaknya, ini adalah saat yang tepat untuk melakukan perang, tapi Exif membuat kesalahan. Hal ini membuat alien memanggil makhluk kuno yang disebut King Ghidorah dan naga berkepala tiganya yang nggak bisa dikendalikan. Jadi, inilah saatnya Godzilla bangun dan menghentikan naga ini sambil menyelamatkan umat manusia dari kehancuran.

Buat Yang Tidak Bisa Play Atau Download Silahkan Baca Menu Pusat Bantuan Sampai Bawah Ya..


Animation
Nonton streaming Godzilla: The Planet Eater sub indo, download anime Godzilla: The Planet Eater subtitle bahasa indonesia.
Judul : Godzilla: The Planet Eater
Judul Alternatif : Gojira: hoshi wo kû mono
Rating :
Votes :
Status :
Total Episode :
Hari Tayang : Waktu Standar Jepang
Uploader : Rukmana Fahri, Law Hammer